Pedestrian zone
■Outline of Pedestrian zone■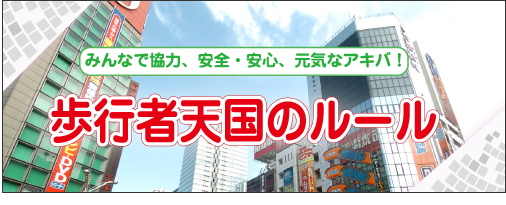 Pedestrian zone Rule
We aim to be a pedestrian paradise where everyone can enjoy walking in the town safely and with peace of mind. Thank you for your cooperation.
● Implementation day and time
Sunday
13:00-17:00 (October-March)
13:00-18:00 (April-September)
*Cancelled due to rain, stormy weather, strong winds, or bad weather. there is.
● Implementation area
Chuo-dori (between Sotokanda 5-chome intersection and Manseibashi intersection) 570 meters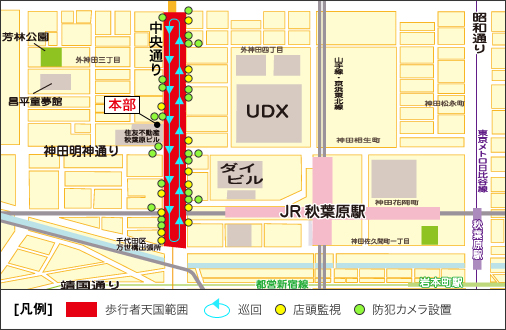 ■ Prohibitions ■
You cannot do the following in pedestrian paradise!
Pedestrian Heaven is a rule to ensure the safety and smooth passage of pedestrians.
In pedestrian streets, you cannot sell goods, perform performances, live on the street, or ride bicycles.
List of prohibited items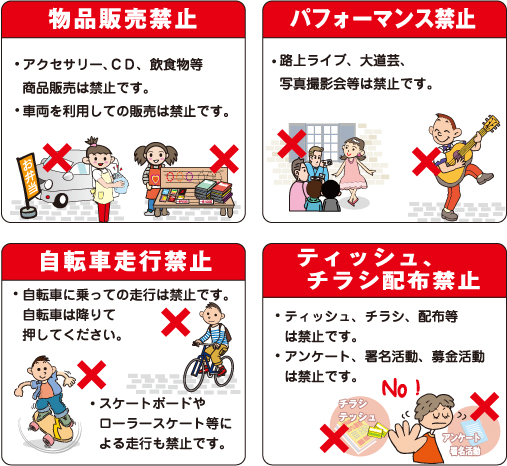 Let's make a better Akihabara where everyone can follow the living environment regulations, Akihabara agreement, etc., and everyone can enjoy walking and shopping safely and with peace of mind.
■ Akihabara Agreement ■
●You cannot smoke on the street
The Living Environment Ordinance prohibits smoking on the street. We will obey the manners and smoke at the designated place.
● Use the road correctly
We will not carry out any activities that adversely affect youth, display advertising materials, or distribute unauthorized leaflets.
No signs or banners will be placed on the road.
We do not sell on illegal streets.
We do not illegally park or park bicycles.
We do not recklessly drive a bicycle.
It doesn't perform illegally.
● Strive to prevent crime
We will actively implement crime prevention patrols.
Be careful not to overlook manner violations such as nuisance.
If you witness a criminal activity, call the police immediately.
● Strive to promote the beauty of the city
If there is a line outside the store, please be careful not to obstruct pedestrians.
When operating the store, try not to generate noise (due to speakers etc.) or odors.
Persons engaged in rental building business, etc. shall not attract tenants who perform customs business or malicious business activities.
Stores that operate late at night will instruct employees and pay close attention not to bother the neighborhood.
● Akihabara Regional Cooperation Council "Akiba 21"
◇Manseibashi District Town Association Federation
◇Akihabara Electric Town Promotion Association
◇Akihabara Chuotsu Shopping District Promotion Association
◇Akihabara Shopping District Promotion Association
◇Akihabara Ekimae Shopping District Promotion Association