Chapter 3 -High Growth and Home Appliance Boom-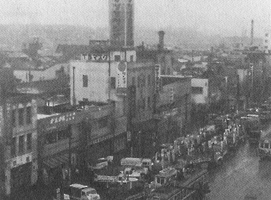 Kanda Akihabara around 1962
 The Showa 30's is an era in which Japan is rapidly becoming richer.
 It is an era in which "things" are distributed to each household, and the goal is to satisfy the material, such as watching TV with the whole family in the living room with bright lights, moving into a new housing complex, and getting a car. It was a happy time in a sense, when the satisfaction satisfied the feeling of happiness.
 When looking back on the history of Akihabara in this era, and by looking back on the history of Japan as a whole in the Showa 30's, it will be easier to understand, so let's first look back on the history of Japan as a whole in the Showa 30's.
Showa 30's of the whole of Japan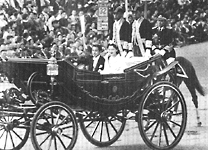 Marriage of the Crown Prince (1959)
 The 1955's was a new era of "growth," as symbolized by the phrase "no longer after the war" in the White Paper on National Life in 1955.
(1)1959 Crown Prince Marriage
(2)1960 Ikeda Cabinet "Income Doubling Plan" announced
(3)1964 Tokyo Olympics held
It continued to grow brilliantly, and although there was a recession on the way, it achieved remarkable development centered on the Shinbu economy in 1956 and the Iwato economy in 1959-1961.

 Gross national product (converted to the price of 1970) was 17 trillion yen in 1955, but reached 41 trillion yen in 1965, achieving a miraculous growth of 2.4 times in 10 years and an annual rate of 9.2%.
 In the economy at that time, investment in production equipment through innovation (technological innovation: development of new products, introduction of new production methods, development of new sales channels, acquisition of new raw materials, realization of new organizations) stimulated new consumption demand. However, the cycle of calling for investment is repeated, and synthetic resin products such as plastic products, durable consumer goods such as TVs / washing machines / refrigerators, cars, and even instant ramen have changed to the extent that it is called a consumption revolution. I went.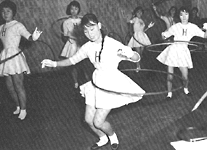 Hula hoop epidemic (1958)
 On the other hand, social problems such as pollution caused by the industrialization of the coastal area began to occur in the 1955's.
 In addition, booms peculiar to the consumer society such as "hula hoop" and "dacco-chan" will be born, and Japan will rapidly become rich. On TV, American home dramas such as "Father Knows Best" and "My Mom is the Best in the World" convey "Life with Home Appliances" and "Let's Dream" and "Soap Bubble Holiday". It was around this time that popular programs were born. It was also during this period that Hitoshi Ueki's "Sudara Bushi" was sung, the Record Awards were established, and popular songs became widespread.

 In 1956, the sun and Shintaro reapers became popular, rockabilly became popular in 1958, Kaminari in 1959, and Miyuki in 1964. It was a characteristic of the age.
 In the early 30's, professional wrestling Rikidozan played an active role, and people flocked to street TV. In the latter half of the 1930s, Nagashima played an active part in professional baseball, and Taiho played an active part in sumo wrestling.
 Such fashion and affluence were created, and the symbol of all affluence was "home appliances."
Home Appliance Industry / Akihabara Showa 30's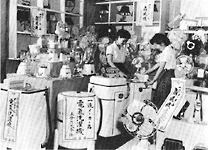 The arrival of the electrification boom (three sacred treasures) (1960)
 It is no exaggeration to say that the 1955's was a decade of "home appliances" in a sense. It was an era when people worked every day to buy "home appliances" and enjoy "home appliances life".
In 1957, the penetration rates of black-and-white TVs, electric washing machines, and electric refrigerators, which were said to be the "three sacred treasures" in the 1955's, were 7.8%, 20.2%, and 2.8%, respectively, but in 1965. Rapidly spread to 95.0%, 78.1%, and 68.7%, respectively.


 In 1955, Tokyo Telecommunications Industry (currently Sony) released a transistor radio. The household penetration rate increased from 24.9% in 1960 to 55.8% in 1965.
1957.5 / Sanyo / Fan
EF-122 / 12,800 yen
1958.4 / Sanyo / Black and white TV
14-E1 / 73,500 yen
1959.11 / Sanyo / Washing machine
EF-122 / 24,700 yen
 Around 1960, color TVs, coolers, and stereos were added, radios were FM radios, washing machines were washing machines with dehydrators, and refrigerators were refrigerators with freezers. It was.
1960.5 / Sony
Black and white TV
TV-8 301 (Portable transistor TV)
69,800 yen
 In the latter half of the 1955's, audiophiles grew rapidly, and the brand "Pioneer specializing in speakers, trio of high-frequency coils, Sansui specializing in transformers, and radio set maker Onkyo" began to be talked about among audiophiles. It was.
 It was the 1955's when there were many attractive products for general consumers, but in the consumer electronics industry, it was 10 years when the distribution order was disrupted and reorganized.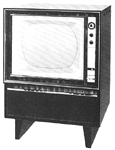 1960 / Matsushita / Color TV / K21-10 (21 inches) / 520,000 yen
 Due to the boom in home appliances after 1952-1953, home appliance manufacturers expanded their production one after another, but in 1957 they fell into overproduction and sought new sales channels from agricultural cooperatives, occupational organizations, and other industries. Home appliances are now being placed in supermarkets, which were newly emerging at that time.
Until then, home appliances were generally sold through the route of manufacturer → wholesaler → retail (electric store) →, and sales through the new route created a scramble for sales, and local electric stores had a vital problem. Met.
 The manufacturer formed the Home Appliance Market Stability Council (Ichiankyo) in 1956, and in August created an implementation guideline called "8 items for market stability" with the aim of price stability, but the following year, some retailers in Akihabara The Fair Trade Commission submitted a recommendation and a written opinion to the retailer for the suspension of shipment by some manufacturers. As a result, it has become difficult to establish a distribution order under the initiative of the manufacturer.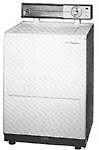 1961 / Hitachi / Washing machine / SC-AT1 / Scat (Fully automatic No. 1) / 78,000 yen
 In Akihabara at that time, Hirose Shokai, Kakuta Musen Denki, Yamagiwa Denki, and Ishimaru Denki, which run wholesalers, were famous all over the country and sent out information that "Akihabara is cheap". So, the number of companies starting business is increasing, and it is booming.
 On the other hand, there is a contradiction between selling wholesale and retail in Akihabara (sometimes it was seen by retailers in other regions), and the manufacturer's sales strategy ("wholesale" where retailers complain. We tried to solve the problem by shifting the function to the manufacturer's direct sales system), and with the aim of improving the industry and improving management, we established a jointly funded sales company with the manufacturer and retailer, and with the wholesale department, We headed towards separating the retail sector.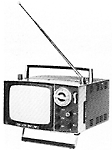 1962.4 / Sony / Black and white TV / TV5-303 (world's first micro TV) / 52,000 yen
 Then, in 1961, the recession in rural areas spread nationwide, and the exhausted local electronics stores began to find themselves in trouble. As a result, wholesalers are also at increased risk of receiving the aftermath, and more and more retailers are taking the path of retailing.
 Akihabara has grown steadily despite such turmoil, and in 1962 the current Radiokaikan building will be built as the first skyscraper.

 With the separation of consumer electronics wholesale and retail, the owners of large stores who decided that a distribution revolution would rush to the consumer electronics industry were led by Masaji Taniguchi (then) of Asahi Musen (now Laox) in 1963, and NEBA (Japan). The predecessor of the Association of Large Stores Specializing in Electricity), the "All Japan Electric Appliances Large Store Management Study Group," was established, and Sato Musen, Yamagiwa Denki, etc. joined to contribute to the development of the industry.


| | | |
| --- | --- | --- |
| | | |
| 1962.2 / Akai / Open deck / M-7 / 108,000 yen | 1962 / Toshiba / Refrigerator / GR-80T / 43,500 yen | 1959.11 / Aiwa / Cassette recorder / TR-707 / 22,500 yen |
 Throughout the 30's of the Showa era, the consumer electronics industry grew significantly while having a structure that brought about overproduction and a bargain battle. Among them, Akihabara continued to grow with the support of consumers while making pioneering efforts as a leader.
References:
"History of Chiyoda Ward (published by Chiyoda Ward)"
"The Akihabara (Nikkei Sangyo Shimbun)"
"Yamagiwa 60 Years of History"
"Laox 50 Years Corporate History"